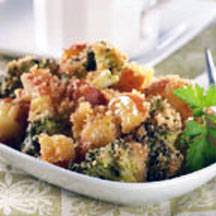 3 cups coarsely chopped red or other waxy potatoes (3 medium)
1 cup peeled and coarsley chopped parsnip (1 medium)
3 cups fresh broccoli and/or cauliflower florets
3 tablespoons butter, divided use
2 tablespoons all-purpose flour
1 (12-ounce) can NESTLÉ® CARNATION® Evaporated Milk
1 MAGGI® Vegetable Bouillon Cubes
1/8 teaspoon ground white pepper
1/4 cup seasoned dry bread crumbs
PREHEAT oven to 350º F.

MICROWAVE potatoes and parsnip in covered, medium microwave-safe casserole dish on HIGH (100%) power for 9 minutes; drain. Return to dish; top with broccoli.

MELT 2 tablespoons butter in a small saucepan over medium heat. Stir in flour; cook, stirring constantly, for 30 seconds. Gradually stir in evaporated milk, bouillon and pepper; cook stirring occasionally, for 3 to 4 minutes or until bouillon is dissolved and sauce is slightly thickened. Pour sauce over vegetables.

MICROWAVE remaining butter in small, microwave-safe bowl on HIGH (100%) power for 10 to 20 seconds or until melted. Stir in bread crumbs until combined. Sprinkle over vegetables; cover.

BAKE for 30 minutes. Uncover; bake for additional 10 minutes or until top is golden brown.